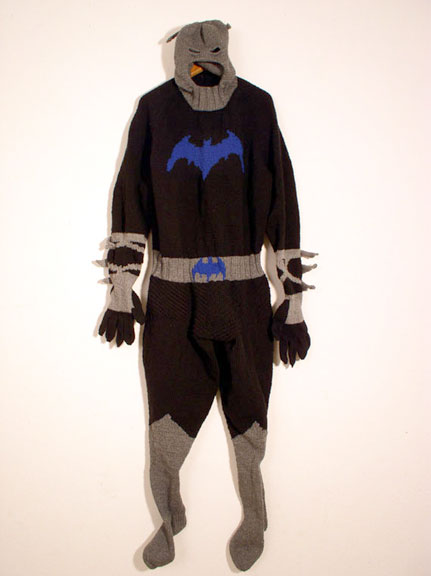 Every once in a while, an artist comes along that is definitively "Extreme Craft". Today, I was introduced to the wonders of Mark Newport, an Arizona artist who, like football player Rosie Grier, proves his masculinity through working in a craft idiom. His most recent body of work consists of Hand-Knit Costumes and Embroidered Comic Book Cover Samplers.

"Newport works in and around an arena which, no matter how hip, still must be considered under the particular jurisdiction of the adolescent male: comics and the comic-book hero. However, he subverts the obvious appeal of violent conflict between forces for good and evil by accenting the decorative aspect of comic work via embroidery…over select faces and details…and through descriptions of a kinder, gentler alternate hero…The artist's use of needle craft, typically considered well within the realm of "women's work," establishes a challenging relationship between the young man implied by these works, the voice of popular culture/media, and a father's voice."

This work seems very compassionate, and appears to be coming from a genuine place. I would venture to say that the craft aspect adds an element of vulnerability and humanity to the obsession shared by fans of superheroes and craft alike. Aside from the obvious humor evoked by the costumes and samplers, they have a devotional quality. As I write this, fans of the Backstreet Boys are lining up across the street from where I work for a comeback concert. My sister used to work for a company that opened (The horror!) fan mail for N-Sync and the Backstreet Boys. She told me about some of the handmade devotional objects that would come in, including a fantastic quilt that one woman made for her favorite Backstreet Boy. I can imagine Nick Carter snuggled up with that quilt dreaming sweet Paris Hilton dreams... but that's just me.
LINK
via
BoingBoing