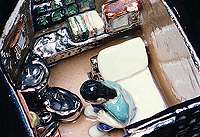 Sunday's New York Times had an article about the use of origami on the television program Prison Break. Apparently, one of the main characters, an engineer by trade, has been figuring out the prison's plumbing system by dropping little origami cranes into the pipes, then finding out where they come out. The article gathered some dweeby feedback from various bulletin boards, wherein the writers express their disbelief that big ol' scary prisoners would have access to origami paper and instructions. In fact, origami is sort of a time-honored prison craft. The article goes on to quote a woman who taught origami in the Vermont prison system:
Paper is one of the few art supplies and creative outlets allowed in prison," said Teresa Volta, who taught origami several times a month for three years in two prisons in Vermont. Though her family and friends were alarmed by the job, Ms. Volta said their fears were put to rest with the first class, at the prison in Windsor, Vt., when the inmates eagerly took part and all got along. Ms. Volta said concentrating on folding had a calming effect. "It's amazing how many prisoners wanted to make flowers for their wives, girlfriends and children for visiting day," she added.
I scanned other articles on the internet that mentioned that when inmates can't get their hands on good paper supplies, they will use the foil lining from cereal boxes to make their creations. Arts and crafts, no matter how sissified, become a form of commerce inside the joint. Remember the Extreme Craft article on
Ray Materson
? He managed to find salvation in prison through EMBROIDERY! Check out Edinburgh Castle's article on
historical prison craft
. Here is another great link to an
article on prison craft
by
interestingideas.com
.Last but not least, check out
Extreme Craft's gallery of crafts by Charles Manson
, including glow-in-the-dark spiders and toilet paper sculpture.